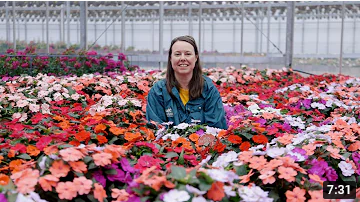 How to Grow Sunpatiens
Sunpatiens are a type of impatiens that is known for its ability to thrive in full sun. They are a popular choice for gardens and containers because they are easy to care for and require little maintenance. Sunpatiens can be purchased as young plants or seeds, and they will bloom from spring until fall.
To grow sunpatiens, choose a location that receives at least six hours of sunlight per day. If you are planting them in a container, make sure the pot has drainage holes. Fill the pot with a quality potting mix and plant the sunpatiens at the same depth they were growing in their previous container. Water the plants thoroughly after planting.
Sunpatiens need regular watering, especially during hot, dry weather. Water the plants when the soil is dry to the touch and apply a layer of mulch around the base of the plants to help retain moisture. Fertilize sunpatiens every two weeks with a balanced fertilizer to encourage blooming.
Pruning is not necessary, but you can remove spent flowers to encourage continued blooming. Sunpatiens are susceptible to powdery mildew, so avoid overhead watering and provide adequate air circulation around the plants. If powdery mildew does appear, treat it with a fungicide.
Sunpatiens are a type of impatiens that is known for its ability to thrive in full sun. They are a popular choice for gardens and containers because they are easy to care for and require little maintenance. Sunpatiens can be purchased as young plants or seeds, and they will bloom from spring until fall. To…
Sunpatiens are a type of impatiens that is known for its ability to thrive in full sun. They are a popular choice for gardens and containers because they are easy to care for and require little maintenance. Sunpatiens can be purchased as young plants or seeds, and they will bloom from spring until fall. To…