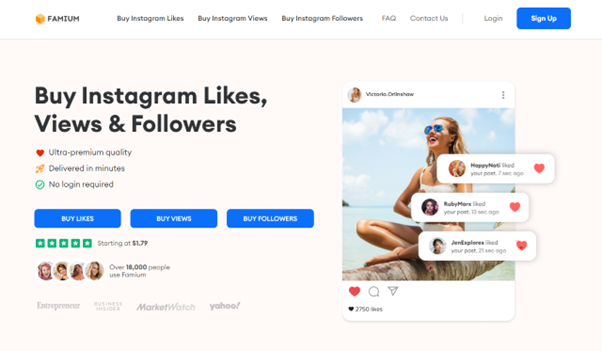 My Honest Review of Famium Instagram Services (2023)
My Honest Review of Famium Instagram Services (2023)
Famium is an online website that you can use to buy Instagram likes, views, and followers. They provide a variety of packages and services that are tailored towards increasing your Instagram presence and boosting engagement.
I decided to give Famium's services a try after seeing their Google Ad whilst hunting for Instagram growth services. The process was quite easy – all I had to do is choose the package I wanted, enter my payment details, and wait for the results.
In today's blog, I'm going to take a deep dive into their services, the pros and cons, and what you can expect from their service.
Services (Likes, Views & Followers)
In all, Famium has 3 services, namely, likes, views, and followers. For each of these services, you have a wide range of packages at varying prices.
To begin, we have Instagram Likes which has packages ranging from 50 likes for $1.79 all the way to 10,000 likes for $79.99.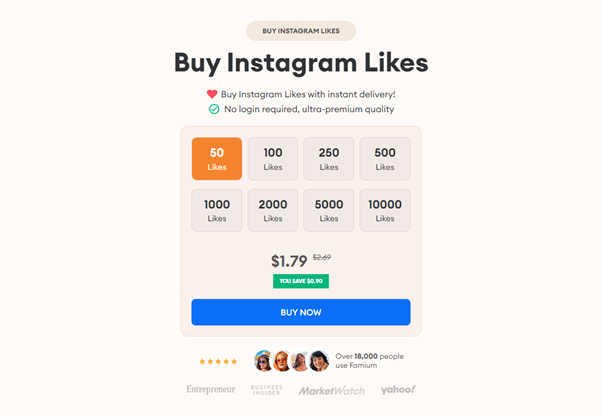 Next, we have Instagram Views, which has packages ranging from 500 views for $1.99 all the way to 100,000 views for $99.99.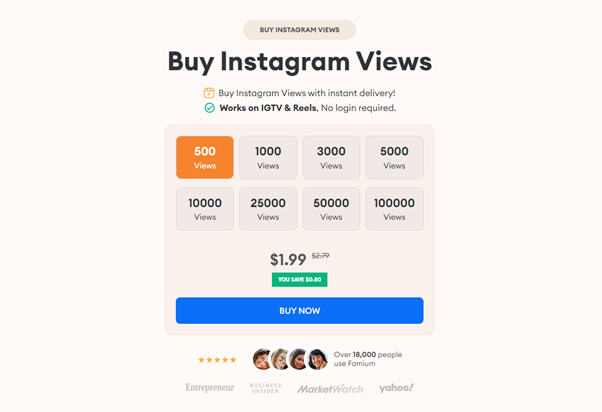 And finally, we have Instagram followers starting with 100 followers for $3.99 and going all the way to 20,000 followers for $129.99.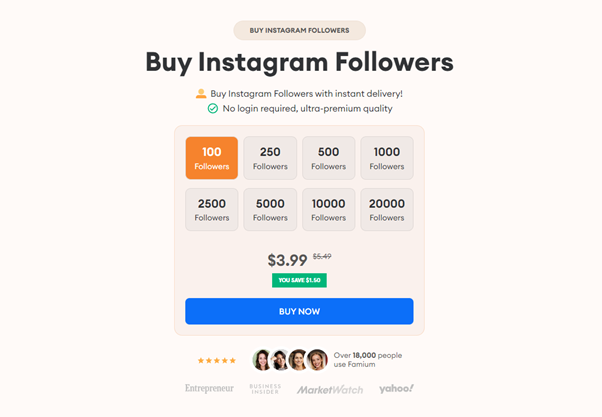 Features
One of the first things you'll notice with Famium is, that they have several options for whatever package it is that you choose to purchase. For example, if we opt for 2500 followers, we are greeted with the screen below.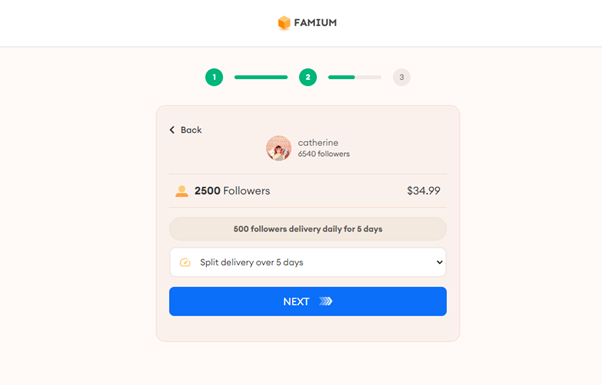 Here, we can choose a delivery speed option. We can opt for instant delivery, where all the followers are delivered immediately upon checkout. Or we can opt to split the delivery over several days.
If I were to choose 'Split delivery over 5 days', that would get me 500 followers x 5 days = 2500 followers in total. This – is a nice touch by Famium, as I definitely wouldn't want 2500 followers flooding my profile within a few minutes and would rather have them come slowly over a few days.
When it comes to likes and views, you have the option to split the likes/views over several posts. For example, if I opt for 500 likes, I can now split these likes over 10 different posts with each post getting 50 likes.
Quality
The first thing that I noticed with Famium is that they do not explicitly mention that their services are from 'real' or 'active' users, or from 'USA' audiences.
Of all the services that I've tried so far, everyone has been more or less the same. You think you're going to get real & active USA followers and likes, and the moment the delivery comes in, you immediately know that you've been burned.
With Famium, things play out rather differently. While they do not make any false promises or misrepresentations of their services (like every other service out there), the quality of the services is rather pleasant.
Here is a snapshot of the followers that I gained. Many of them have stories up, most appear to be real accounts.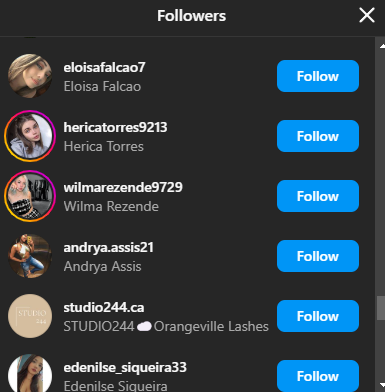 Here is a snapshot of the likes that I received. The profiles seem to have a decent number of posts, followers, and engagement of their own.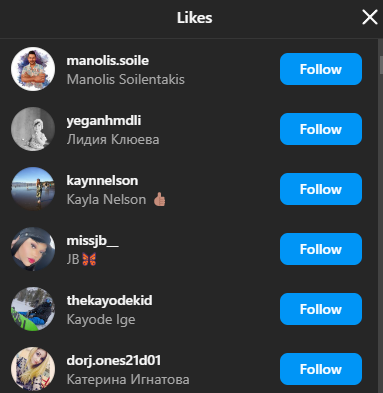 The key point is, that I didn't feel that I was lied to or deceived. And that, to me is a big win for Famium in my books.
Process
Let's take a walkthrough of the process of placing an order with Famium.
To begin, we navigate to famium.co and are greeted with this screen.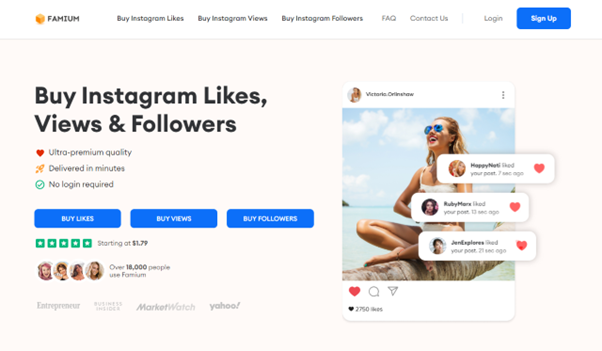 Next, we choose one of the 3 service options we have. In this example, let's opt for 'Buy Instagram Views' and choose the 500 views option.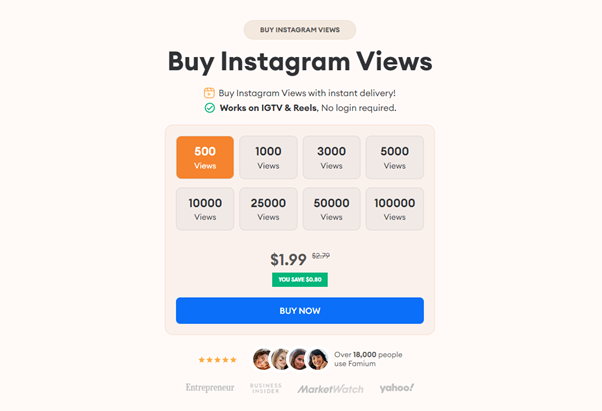 Next, we enter our username and are shown 12 of our most recent posts.
Fun fact: When purchasing views, all your static posts (non-video posts) are greyed out. I found that to be super cool!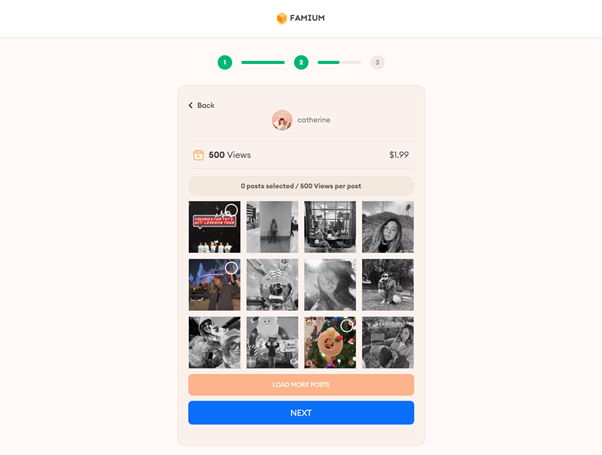 So, now we select a couple of our posts and go to the next page, which is the checkout page.
Here we have the option to add in a few more views if we want (optional), and we can with just another click place an order.
Upon placing the order, you immediately get an email confirming your order, and the delivery typically begins within a few minutes!
Pros & Cons
Alright, let's get to the juicy bits! If I had to wrap up my review of Famium, here's how I would go about it:
Pros –
The website and interface are super-easy to use.
The option to split delivery is game-changing.
Delivery is quick (within a few minutes of placing the order)
Quality is far superior to most other services.
Cons –
No option for subscription services which most other services have (auto likes)
Lack of payment options (no PayPal or crypto)
Additional Notes
While doing this review, I reached out to Famium with a query (as a customer) via their contact page inquiring about a service. I received a reply to my query in 3 hours and 27 minutes, which to me, was impressive.
Another cool feature I found was the Famium Reviews page on their website, where I submitted a review, which was later published on their site within 3 days.
Finally, I also spent a couple of hours exploring their Blog and found some decent content on all things Instagram. Their library of Instagram captions is definitely something I'd be using on my future posts.
The one drawback I found with their blogs is when I signed up for their newsletter for an e-book, which I didn't really get. I later ended up emailing them, and as expected, they replied in a few hours and sent me a copy. The e-book was so-so for me, but it was free, so I guess I can't complain!
The Bottom Line
Overall, I'm incredibly impressed with Famium. They provide quality services at a competitive price point. The delivery and support are top-notch, and the website is easy to use and intuitive.
If you're looking for reliable Instagram growth services that won't leave your wallet lighter than it was before, then Famium is definitely a service to try out.
My Honest Review of Famium Instagram Services (2023) Famium is an online website that you can use to buy Instagram likes, views, and followers. They provide a variety of packages and services that are tailored towards increasing your Instagram presence and boosting engagement. I decided to give Famium's services a try after seeing their Google…
My Honest Review of Famium Instagram Services (2023) Famium is an online website that you can use to buy Instagram likes, views, and followers. They provide a variety of packages and services that are tailored towards increasing your Instagram presence and boosting engagement. I decided to give Famium's services a try after seeing their Google…