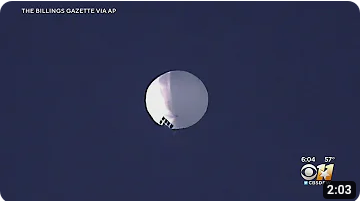 China's Suspected Spy Balloon
A mysterious balloon was spotted over America this past week. It was shot down by the US military and identified as a suspected Chinese spy balloon. This incident has raised many questions about what it was doing in US airspace, how it was shot down, and what kind of damage it may have caused to the environment and wildlife in the area. Let's explore these topics further.
What Was It?
The object that was shot down by the US military is suspected to be a helium-filled latex balloon manufactured in China. While there is no definitive proof that this balloon was sent by China for surveillance purposes, many believe that it could be part of an effort to gain intelligence on American defense systems and gather data about US activities near its borders.
How Was It Shot Down?
The US military used a missile to shoot down the balloon. They claim that they only took such drastic action because they believed that this device posed an imminent threat to national security. However, there are some who question why such force was necessary when other methods, such as disabling the device remotely or sending up another aircraft to investigate, were available options.
What Kind of Damage Did It Do?
The military claims that no environmental damage occurred as a result of their actions. However, there is still some concern about the potential impact it could have had on local wildlife since launching a missile into the ocean often disturbs sensitive ecosystems and can disturb or injure aquatic life. There is also concern over possible damage caused by pieces of debris created during the explosion which may have fallen into nearby areas and upset local habitats.
The mystery behind this suspected Chinese spy balloon remains unsolved at present; however, one thing is certain – this incident has raised serious concerns about how China's activities may be impacting both our environment and our national security going forward. Furthermore, it serves as a reminder that we must remain vigilant in ensuring our safety and protecting our resources from any potential threats posed by foreign entities or individuals seeking to do us harm. As tensions between America and China continue to rise, we must remain aware of incidents like this one so that we can protect ourselves from any possible danger in the future.
A mysterious balloon was spotted over America this past week. It was shot down by the US military and identified as a suspected Chinese spy balloon. This incident has raised many questions about what it was doing in US airspace, how it was shot down, and what kind of damage it may have caused to…
A mysterious balloon was spotted over America this past week. It was shot down by the US military and identified as a suspected Chinese spy balloon. This incident has raised many questions about what it was doing in US airspace, how it was shot down, and what kind of damage it may have caused to…