Travel Paris
Paris, often referred to as the "fashion capital of the world," is an excellent destination for fashion enthusiasts. Five days in Paris will allow you to dive deep into the city's fashion scene. Here's a suggested itinerary tailored to your interest:
Day 1: The Iconic Landmarks and Luxury Shopping
Eiffel Tower: Start your day with a visit to Paris's most iconic landmark.
Avenue Montaigne & Champs-Élysées: After the Eiffel Tower, head to Avenue Montaigne, home to numerous luxury fashion houses. Also, stroll down the Champs-Élysées, one of the most famous avenues, lined with shops, theaters, and cafés.
Place Vendôme: Known for its high-end jewelry boutiques.
Day 2: Marais & Vintage Shopping
Le Marais: Explore this historic district, known for its unique boutiques, vintage stores, and trendy fashion outlets.
Kilo Shop, Free'P'Star, and other vintage stores: These are famous vintage shops where you can find unique fashion pieces.
Lunch at Merci: A concept store/café that offers a curated selection of fashion, home goods, and more.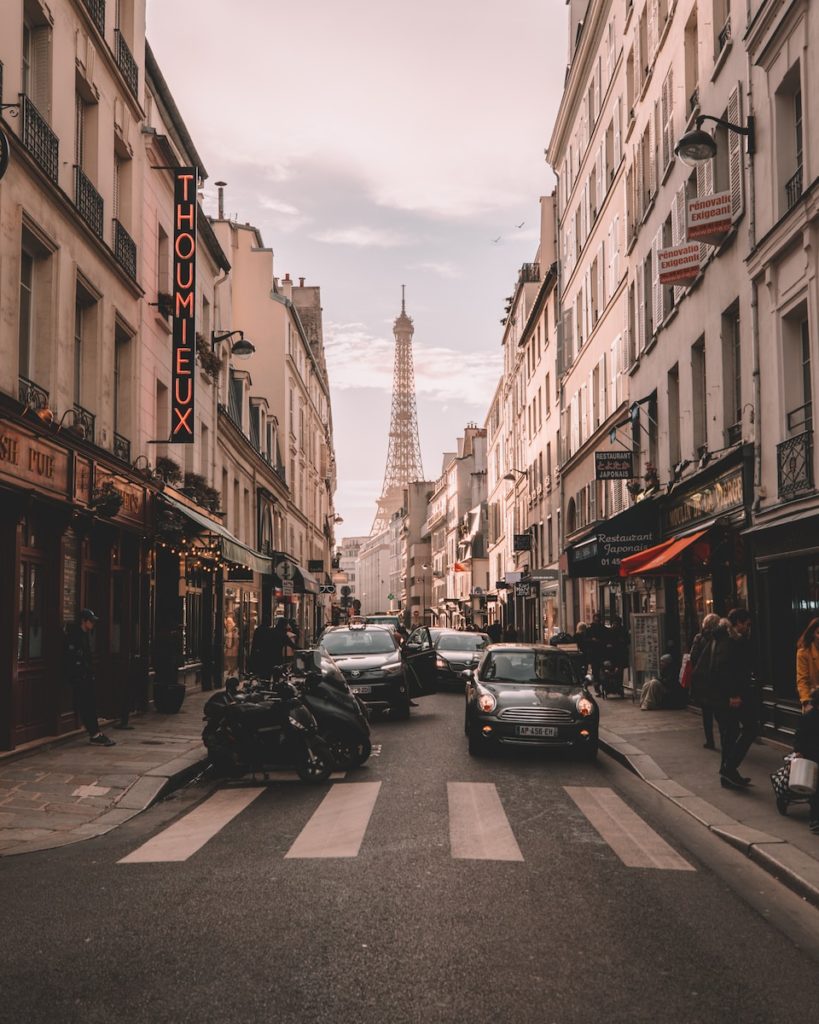 Day 3: The Fashion Museums
Musée Yves Saint Laurent: This museum is dedicated to the life and work of the French fashion icon.
Palais Galliera, Museum of Fashion: It hosts rotating exhibitions on fashion history and designers.
Musée des Arts Décoratifs: Besides its decorative art collection, it also holds fashion exhibitions.
Day 4: The Bohemian Left Bank
Saint-Germain-des-Prés and the Latin Quarter: These districts are renowned for their bohemian atmosphere and have numerous boutiques.
Le Bon Marché: Paris's oldest department store, renowned for its fashion selection.
La Vallée Village: If you have time and are looking for designer goods at discounted prices, you might want to visit this luxury outlet mall.
Day 5: Experience & Workshop Day
Fashion Walking Tour: Join a guided fashion-themed walking tour to discover hidden fashion spots, learn about the history of Parisian fashion, and even get insider shopping tips.
Fashion Workshop: Enroll in a short fashion-related workshop, whether it's about hat-making, sewing, or fashion sketching. Many ateliers and schools offer day classes for visitors.
End with a Fashion Show: If you visit during Paris Fashion Week, be sure to attend a fashion show. Even outside of Fashion Week, you can catch a fashion show at places like the Lido or the Moulin Rouge.
Additional Tips:
Fashion Week: If your visit coincides with Paris Fashion Week (usually in March and September), you can experience the city buzzing with fashion events, parties, and runway shows. While many shows are invite-only, there are numerous other public events and pop-ups.
Stay Fashionable: Consider booking a stay at a fashion-themed hotel or one that's popular with the fashion crowd, like Hotel Costes or Le Royal Monceau.
Dining: Paris is not only about fashion; it's also about gourmet dining. There are numerous chic cafes and restaurants frequented by the fashion crowd, like Café de Flore and L'Avenue.
This itinerary offers just a glimpse of what Paris has to offer to fashion enthusiasts. Tailor it to your specific interests, and you'll have an unforgettable experience!
Paris, often referred to as the "fashion capital of the world," is an excellent destination for fashion enthusiasts. Five days in Paris will allow you to dive deep into the city's fashion scene. Here's a suggested itinerary tailored to your interest: Day 1: The Iconic Landmarks and Luxury Shopping Day 2: Marais & Vintage Shopping…
Paris, often referred to as the "fashion capital of the world," is an excellent destination for fashion enthusiasts. Five days in Paris will allow you to dive deep into the city's fashion scene. Here's a suggested itinerary tailored to your interest: Day 1: The Iconic Landmarks and Luxury Shopping Day 2: Marais & Vintage Shopping…