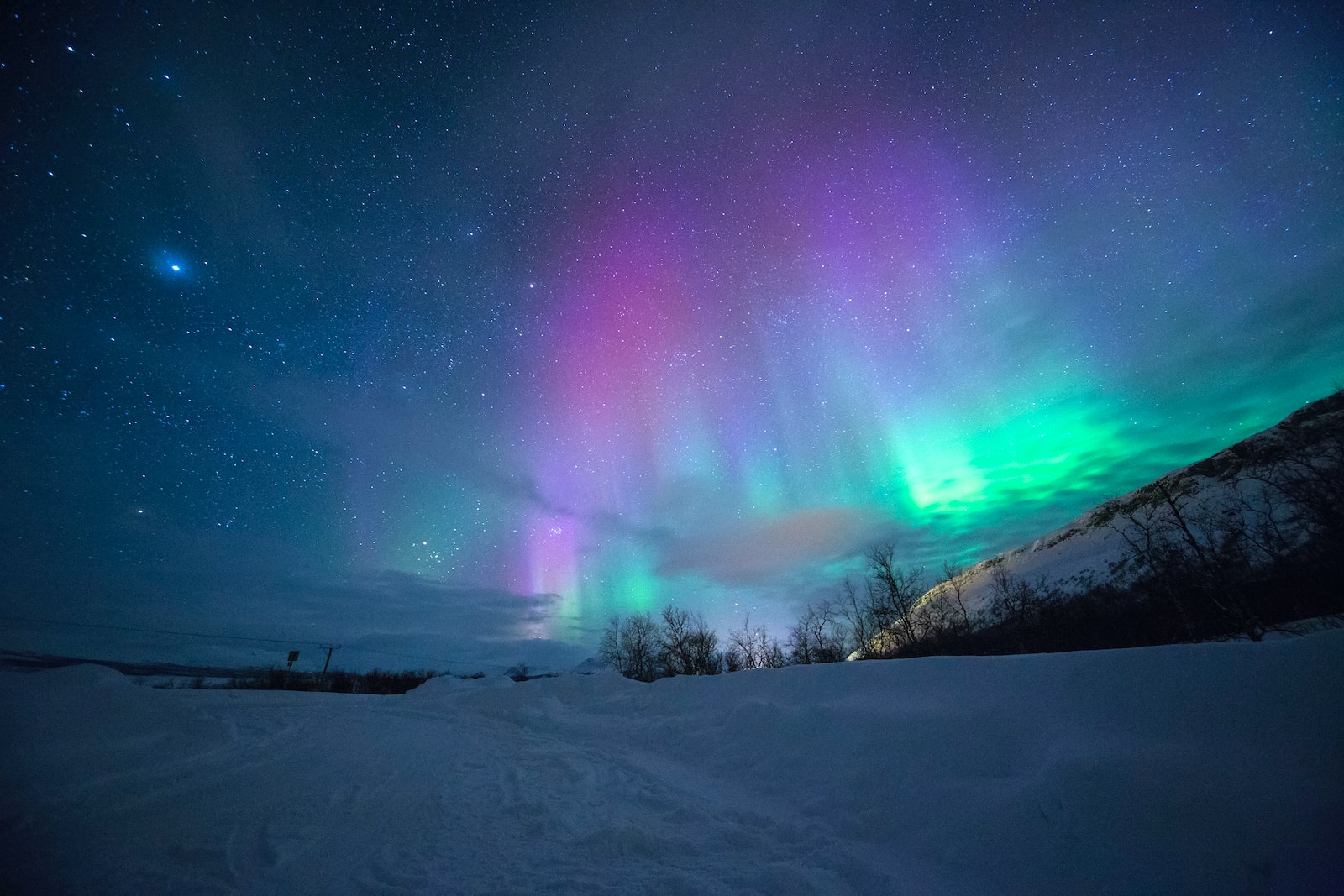 Norway's Northern Lights
Are you looking for a vacation that will leave you in awe of nature's beauty? Then, Norway's Northern Lights trip is the perfect getaway for you!
Day 1:
Your trip begins with arriving in Tromsø, known as the "Gateway to the Arctic". This picturesque city is an ideal destination for witnessing the Northern Lights, and you can check into your hotel and rest after your journey. As evening approaches, head out to explore Tromsø's charming streets, visit the Tromsø Cathedral, and enjoy a hearty Norwegian dinner at a local restaurant.
The best time to plan your trip to Tromsø is from late September to early April, during the winter months. Choosing a period around the equinoxes, from late September to early October or March to early April, can significantly increase your chances of witnessing the Northern Lights as geomagnetic activity is often higher than other times of the year.
Day 2:
The next day, take a cable car ride up to the Storsteinen viewpoint to catch a panoramic view of Tromsø and its surrounding fjords. In the afternoon, engage in optional Arctic activities such as husky sledding, reindeer sleigh rides, or snowmobiling (pre-book these activities to avoid last-minute hassles).
In the evening, embark on a guided Northern Lights tour led by experienced guides who know the best spots for viewing. Many tours offer campfires, warm drinks, and Norwegian snacks to make your experience more enjoyable. To increase your chances of seeing the Northern Lights, choose a night when the weather forecast is clear, and the Aurora forecast is promising.
Day 3:
On the last day of your trip, explore the Tromsø Wilderness Centre, where you can learn about the Sami culture, Indigenous people of the region. The centre exhibits a vast collection of Sami artifacts, and you can also take a reindeer sledge ride in the nearby forest. In the afternoon, visit the Polaria Arctic Experience Center to learn about the Arctic environment and its wildlife.
As evening approaches, if you haven't seen the Northern Lights yet, you could join another guided tour or go to a location recommended by locals. Remember to keep track of the Aurora forecast and weather predictions to make the most of your trip.
Overall, the Northern Lights trip in Norway is an unforgettable experience, and Tromsø is an apt location to witness such a breathtaking spectacle. Although the Northern Lights sightings can never be guaranteed, choosing a location with clear skies increases your chances of experiencing this marvel of nature. So, book your trip, pack your warm clothes, and get ready to witness this enchanting display of nature's beauty!
Are you looking for a vacation that will leave you in awe of nature's beauty? Then, Norway's Northern Lights trip is the perfect getaway for you! Day 1: Your trip begins with arriving in Tromsø, known as the "Gateway to the Arctic". This picturesque city is an ideal destination for witnessing the Northern Lights, and…
Are you looking for a vacation that will leave you in awe of nature's beauty? Then, Norway's Northern Lights trip is the perfect getaway for you! Day 1: Your trip begins with arriving in Tromsø, known as the "Gateway to the Arctic". This picturesque city is an ideal destination for witnessing the Northern Lights, and…